Features:
Class-D (switchmode) amplification

highly efficient
250kHz switching frequency

Full bridge power stage

Power rating: 75 Watt RMS into 8 Ohm, 150 Watt RMS into 4 Ohm with a single-sided 35 V power supply
Frequency range: 5Hz - 21kHz
ultra-compact design
rugged, solid case
weather-proof ;)
NEW:
Schematic now available!
(No warranty or liability whatsoever. Note that the underlying BCA design is patented by
Crown Audio
, so you can build it for yourself for educational reasons, but you can't sell it. For more details on BCA, look
here.
My Prototype works, but I can't guarantee that the schematic is absolutely correct, and I also can't guarantee compliance with EMI standards. See it as an inspiration for your own designs, and, whatever you do with it, it's on your own risk! Enjoy!)


What's inside: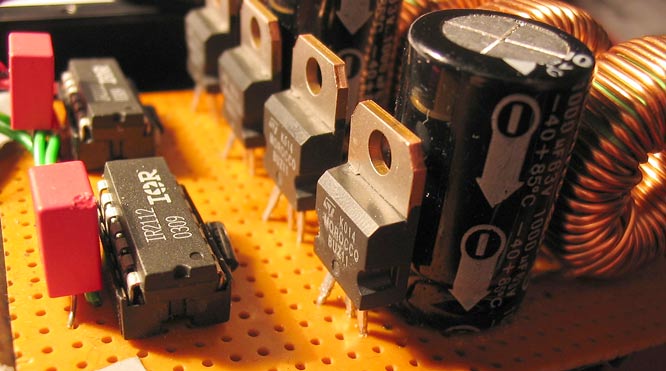 The power stage.
(For operation on 35V, in the depicted sealed case, embedded in acoustic wadding inside
my subwoofer, I added a small "heatsink" - a small piece of aluminium screwed onto the FETs.
Note that you must provide electrical insulation, since the fans of the MOSFETs
are on different electrical levels)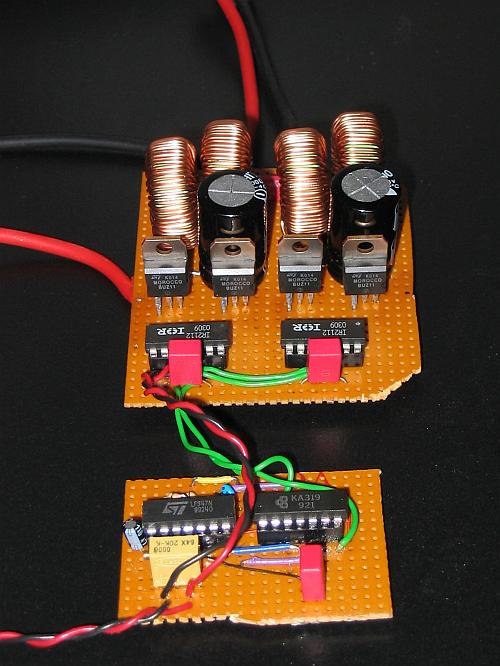 Top view. The little board in the front is the modulator. The power stage is a full H-Bridge, with the filter coils between the MOSFETs.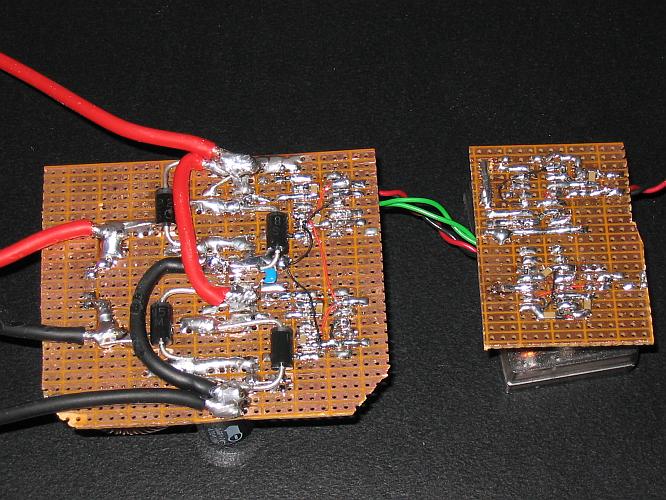 The other side (and the reason, why the board looks so empty...). If you have a close look, you'll notice all those little SMD capacitors and resistors (0605, hard to see), drowned in vast amounts of solder :)